Celebrating ALBERTO GINASTERA'S CENTENNIAL, Rosa Antonelli performed "IDILIO CREPUSCULAR" from Ballet Estancia at the Friars Club Auditorium.
The Lambs Foundation Piano Fund Drive
On October 24th, 2016, Rosa Antonelli will present a recital at New York's new Steinway Hall to benefit The Lambs Foundation piano fund drive. Ms. Antonelli has been a member of the Lambs Foundation for many years. The program will be Classical Latin American Composers in honor of the celebration of Hispanic Heritage Month!
You can make a donation here: www.the-lambs.org/rosa/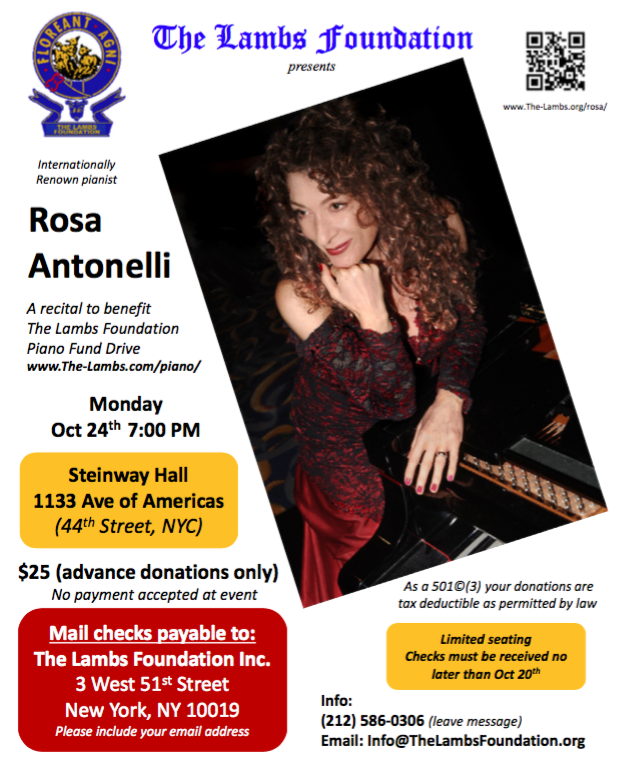 ROSA ANTONELLI, PIANIST: ALBERTO GINASTERA CENTENNIAL GALA
The Consulate General of Argentina, New York, NY
May 18, 2016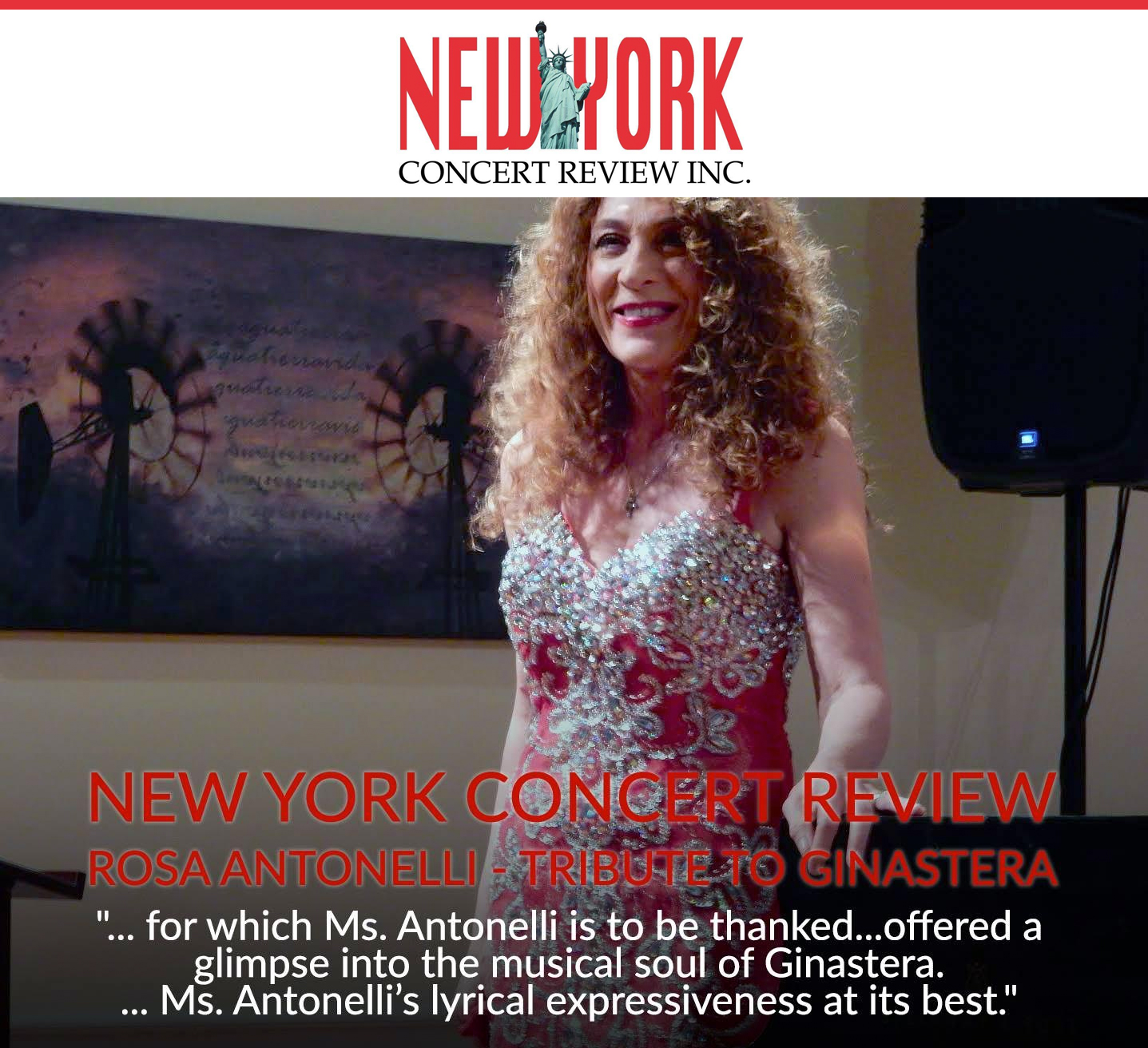 TV INTERVIEW NY1 Channel ROSA ANTONELLI – GEORGINA GINASTERA HOST : PHILIP KLINT

Acclaimed Pianist Rosa Antonelli Performs at the Argentina Consulate
Reviewer Nino Pantano, Pianist Rosa Antonelli & Commendatore Aldo Mancusi. Photo by Judy Pantano
As part of the Alberto Ginastera Centennial celebration, the gifted Argentine-American pianist Rosa Antonelli gave a concert on Wednesday, May 18th at the Consulate General and Argentine Republic at 12 West 56th Street in Manhattan. The special guest in attendance was Alberto Ginastera's daughter Georgina Ginastera.
Rosa Antonelli has been hailed as a leading exponent of Spanish and Latin American music and has appeared at many venues worldwide as well as Carnegie Hall and Lincoln Center. Ms. Antonelli's two CDs titled "Esperanza" and "Remembranza" have been acclaimed. I am proud to have her newest "Abrazando-Latin Embrace" in which she demonstrates her pianistic wizardry with several immortal Latin composers including Astor Piazzolla, Hector Villa-Lobos, Ernesto Lecuona and Isaac Albeniz.
I first became acquainted with Ms. Antonelli at a gala at the New York Athletic Club sponsored by the Enrico Caruso Museum based in Brooklyn. Aldo Mancusi, the founder and curator of the museum chanced to hear Ms. Antonelli play at a concert and asked her if she would play a selection or two at his special gala honoring his new title of Commendatore by the Italian government. She did play and later requested that we attend her special concert at the Argentine Consulate.
Ms. Antonelli, looking stunning in a sparkling red and silver gown, seated at her beautiful Steinway piano began playing "Idilio Crepuscular" (Romance at Twilight) from Ballet Estancia, the first part of a set by the Argentine composer Alberto Ginastera (1916-1983) and then from "Preludios Americanos" "Triste," "Vidala" and "Homenaje" a Roberto Garcia Morillo. The tone poems of Ottorino Respighi could be heard in the vibrant rhythms of Pastoral with its dreamy introspection and the exuberant "Danza Criolla." Ms. Antonelli and her instrument play as one and she is an amazing phenomenon.
The passionate rhythms and melodic outbursts of Astor Piazzolla (1921-1992) followed. His four tangos entitled "El Mundo De Los Dos," "Verano Porteno," "Invierno Porteno" and "Libertango" were played with enormous zest. The tango like themes entwining like two dancers in an orgiastic blend in an explosion of passion. One could envision the dancers, drenched in sweat, breathing heavily, totally spent from this orgy of breathtaking musical madness. Ms. Antonelli left us all bedazzled.
The final group, again by Ginastera was from "Danza del Trigo" (Wheat Dance from Ballet Estancia) "Tres Danzas Argentinas," "Del Viejo Boyero," "De la Moza Donosa" and "Del Goucho Matrero." All played with dexterity, finesse and strength fueled by an Argentine inner fire that warmed the soul and stirred the blood.
At the reception we met so many devotees of the art of Rosa Antonelli, who like fellow Argentine Pope Francis is of Italian ancestry. The trials of our being in a traffic jam earlier were drowned out by the beauty of the concert and the delicious meat and vegetable Empanadas, wines and cheeses served afterwards. I have relatives in Buenos Aires that we lost touch with and this concert in a spiritual way, brings me closer to them.
Ms. Antonelli was given a beautiful bouquet of flowers and we thank her for the unforgettable "bouquet" of musical roses she gave to all in attendance.
This entry was posted in Italian -American Heritage and tagged 2016, rosa antonelli by Nino Pantano. Bookmark thepermalink.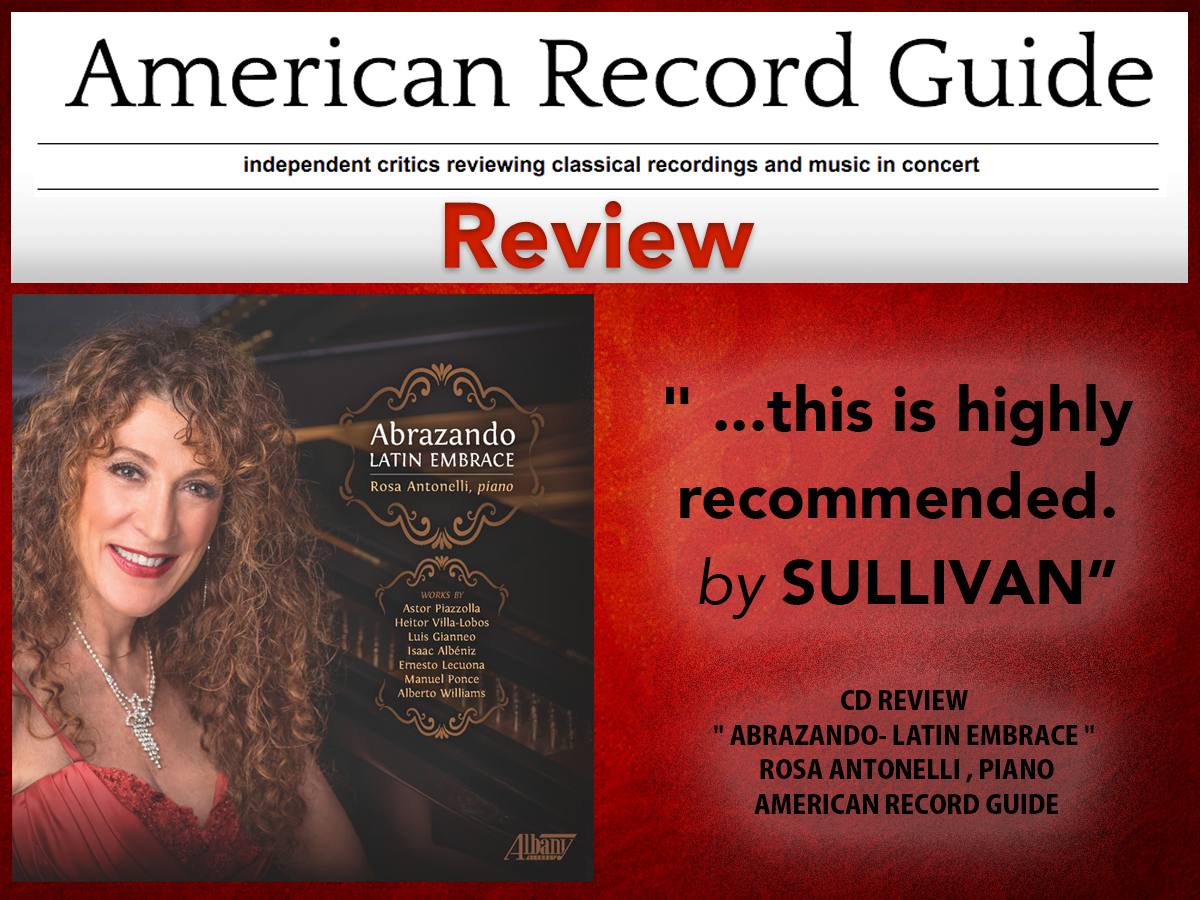 AMERICAN RECORD GUIDE Jan/ Feb 2016
Review
ROSA ANTONELLI, Piano
Abrazando: Latin Embrace
Piazzolla, Villa-Lobos, Ponce, Williams, Lecuona,
Albeniz, Gianneo
Rosa Antonelli, p—Albany 1571—59 minutes
"Latin Embrace" is the right title for this album. These are some of the sexiest pieces in the repertory; and Rosa Antonelli, a specialist with this tradition, mostly chooses the languid specimens rather than the raucous ones. The album opens with Piazzolla's atmospheric 'Invierno Porteno' and 'Verano Porteno', played with generous rubato. Villa-Lobos's Bachiana
Prelude 1 offers immediate contrast. It's always a treat to hear the exotic, free-spirited music of Cuban composer Ernesto Lecuona. (His popular 'Malaguena' is practically all we ever get.) Antonelli plays the gently ringing 'Bell-Flower' and an aptly named 'Marvelous Waltz'. We also get a waltz from Albeniz, which Antonelli performed in its American premiere in her 2014 Carnegie Hall recital. My favorite pieces are an Intermezzo and 'Romanza De Amor' by Ponce. I've always had a fondness for this supremely seductive, gentle, unaccountably obscure composer. Antonelli's phrasing and voicing are magical. The recorded sound is a bit cramped for such luscious stuff, but this is highly recommended. by SULLIVAN
American Record Guide – Review Link
---
NEW CD:
ABRAZANDO Latin Embrace
(Click image to enlarge)
REVIEWS:
Rosa Antonelli
WORLD RENOWNED STEINWAY ARTIST
Argentine pianist Rosa Antonelli is enjoying an active and varied performance career. "Her artistic insight and flawless technique are combined to create an impressive musical vision." Ms. Antonelli is proud that in 1998 she was asked to become part of the distinguished Roster of Steinway Artists.
Ms. Antonelli's recent performance highlights include Carnegie Hall -Stern Auditorium /Ronald O. Perelman Stage-, where she performed the World Premieres of Astor Piazzolla's Two Tangos and The Allen Room, Frederick P. Rose Hall Home of Jazz at Lincoln Center.